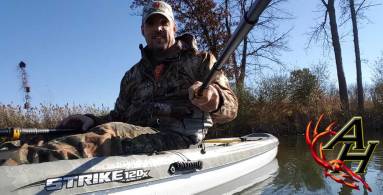 With today's need to video or photo everything, sometimes the ability to see it all is based on how long your arms are.  I am reviewing the XShot Sport GoPro Pole to help me reach out further for those times when the fish is just too big.Upon first inspection, you can immediately tell why the GoPro Pole is one of the best.  The construction done with precision and all options are well thought out.  The aluminum components and additional mounting options provide you with a tool to be used for all situations.What I like about the GoPro Pole
The main is the length and how sturdy it is.  Once extended to the almost 40 inches, it will put the camera out far enough for all situations you will need photographed.  Like a giant bass from your kayak as seen below.  With the twist lock system, the GoPro Pole becomes a solid unit that feels like a one piece pole with no bouncing from sloppy joints.
The multiple mounting systems that come provided with the package is a great feature.  Like most, I like to have one product that is able to meet multiple needs.  With the different mounting options that come with the GoPro Pole, I can use it for any camera as well as my phone.
I like the additional camera accessory mount in the handle.  This gives me the ability to mount this pole on other poles, mounts or even a tripod to really get that high shot.
There was one issue I had with the GoPro Pole and that was the twist locking system.  With most extending poles with this kind of locking system, you have to be careful with tightening them when the pole is collapsed all the way.  With the GoPro Pole, I had a couple instances that the poles were tightened too much while it was collapsed and I need to use pliers to loosen them to extend.  Now I just make sure not to close it all the way or if I do, don't tighten it.
Built for action sports filming.

Twist-locking Shaft with Quick Release
Salt-Water Resistant Hard Anodized Aluminum Shaft (ATSM B117-11)
Anodized Aluminum Thumbscrew
Anodized Aluminum Lock Ring Fixtures & Tether Point
Reinforced Polycarbonate GoPro®
Extra Sports Camera Tether Points for Added Security
Adjustable Paracord Lanyard
Water Drainage Port for Easy Cleaning
Textured Non-Slip Grip
1/4" Accessory Mount on Bottom of Handle
Works with Any Camera type or Phone

Specifications

Weight: 7oz / 200g
Closed: 11.75in / 30cm
Open: 39.25" / 100cm
Max Weight: 2.2lbs / 1kg
Disclosure of Material Connection: I received XShot Sport Pole for free from XShot as coordinated by Outdoor PR in consideration for review publication.