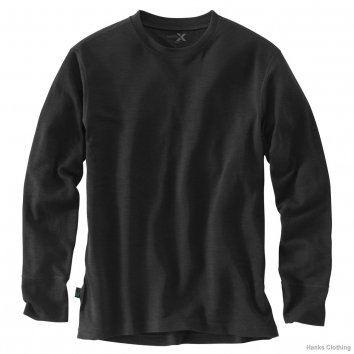 Testing the new WoolX Merino Wool thermal underwear in the windy frigid Midwest cold.
As hunters we often hear the words "that's crazy" or "it's too cold" from all of our non-hunting friends and in most cases they are right. Who in their right mind would go sit high up in a tree exposed to below freezing temps and high winds with only hopes of seeing a deer or their game of choice to walk by the day.  "That's Crazy!"  We have all been there in one way or another.  For some of us that extreme cold is anything below zero and for others anything below 40.  In any case, we have one goal in common, we want to stay warm and dry.
I was asked to try out some new thermal underwear from WoolX made from Merino Wool.  With our never predictable Midwest weather, I knew it was something I had to try out and man when the time came to try it, I was glad I did.
Staying warm and dry go hand and hand and the first and most important part is staying dry.  This is where I learned that the WoolX Merino Wool shown its strength right away.  It was forecasted to be 20 degrees with a steady 15mph wind with gusts of 30+.   In most cases I would have skipped that day but it was our opener for firearm deer and there is nothing that would keep me out of the trees for that.  With starting my layers off with the WoolX Merino Wool Underwear, I packed on a few other layers on top of that and headed for the long walk to the stand.  I didn't have enough hands to carry my coat(s) so I had to wear it all.  It was a long walk and I did break out a sweat under all that gear.  Not knowing what to expect from the WoolX, I was kinda glad and now to got to see if it would wick away the moisture.  Although it didn't wick away the moisture right when it happened, I didn't stay sweaty for long.  Within a short time I felt dry and warm and ready to take on the day in the stand.
Read here on what Merino Wool is.
Below is the info and specs on the shirt from the WoolX website
Merino Wool Tops are the warmest, best looking thermal underwear out on the market today.  Our woolx x502 merino wool thermal underwear top is the perfect thermal top to wear while you are being active outside, a heavier fabric than our Woolx Lightweight merino wool tops, this is the perect baselayer piece that can be worn under a snowmobile jacket or a ski jacket.  When you are heading down the Black Diamond Ski Slope out in Park City, UT you will have the range of motion you need because this is not a heavy material, but it will keep you extremely warm.

Merino Wools appeal is extremely simple, touch,look, performance.  This is what we based our product off of.

The touch on our Merino Wool tops is like no other, it feels just like cashmere, and is completely itch free, in fact we guarantee it.  If for any reason you can not wear our wool because you think it itches, return it with no issues.
The look of our merino wool top is amazing, this shirt can be worn out as a regular shirt instead of a thermal piece, with special features we have instilled in our products we want this to be the best merino piece you have ever worn.
Lastly, and most importantly our merino wool has performance like no other, this fabric does things that synthetics will never be able to do – like wick away moisture

100% 18.5 Micron Australian Merino Wool
230 g/m2 Interlock Construction
Midweight Superfine Merino Wool
Perfect spring, fall, and winter shirt — wear this as a daily wear shirt
Underarm gusset for a better more comfortable fit
Slight back drop hem
3″ cuffs
Flatlock non-chaffe seams
Non-rub interior label
Washable and Dryable — No shrinkage
Feels like cashmere
Superior wicking to keep you dry and warm all day
Imported
There are many things I liked about the WoolX Merino Wool.  The first thing I noticed on the shirt was the extra long cuffs on the shirt.  They made it easier to add more long sleeve layers on top and not have problems with the sleeves bunching up.  The fit of the shirt allowed full movement without parts getting pulled into the wrong places.  The most important part of the shirt was the comfort from the Merino Wool.  They weren't kidding when they said "Feels like cashmere".
Did it keep me dry?  Pretty much.  I don't anything could have kept me dry with the amount of gear I was wearing, carrying and the hills I was climbing.  But it did dry me down quick which in turn kept me from getting cold.  Did it keep me warm?  Yes.  There were a few times with that 30 mph gusts hit me on that 20 degree day when I felt the cold.  But again, I don't think much of anything would have done any better.  Do I recommend WoolX Merino Wool products.  That would be a yes.  Go Getcha Some
Sorry for the lack of pics, but you're not gonna see me in my underwear.