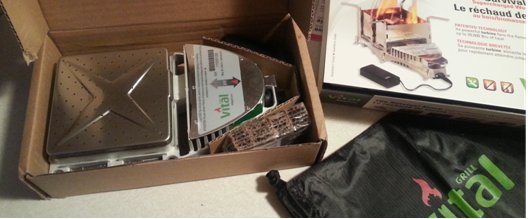 Vital Grill Review
Portability, ease of use and effective are all key points we want in a product we use in the field.  The VitalGrill provides all of those.
The VitalGrill was designed for anyone to use in the field or shore for an quick heat source for cooking that fresh catch or purifying that water so its safe to drink.  All you need are some small chunks of wood, a small source of fire and you can have a roaring contained fire in seconds that will get a pot of water boiling in a couple minutes.
My initial impression of the VitalGrill was shocked on how small and compact it is.  The VitalGrill comes with the main unit, shields that create a "fire pit" which also hold your pot or pan and also a battery pack.  The shields fold up nicely and store on the bottom side of the main unit.  Assembly is very easy with the shields fitting on the unit only one way and the battery pack is a simple plug.
Using the VitalGrill couldn't be easier.  Although you do need to have a source of fire, you can get small fire starter blocks and you just need a match.  The first time I tried to use the grill, we broke up a handful of sticks and piled them in the VitalGrill.  We had a camp fire going so I took a few hot coals and dropped them in the stack of sticks and turned it on and watched the flames start rolling.  How the VitalGrill works is the basic rule of fire, give it more air and the flames get bigger and hotter.  The VitalGrill is essentially a contained fan that forces air up into the fire pit from the underside.  Review the picture at the top and you will see all the small holes.  The two speed fan blows the air threw all those holes turning any hot coal or small flame into a intense inferno.
The VitalGrill does everything as advertised.  Easily create a high heat source quickly and in any conditions as long as you can add hot coals or a small flame source.  At 1 1/2 pounds, you're not going to notice it in your backpack as your hiking up the mountain or down the river.
Find more about VitalGrill at their website www.vitalgrill.com
Find more about them on their Facebook and Twitter pages
---