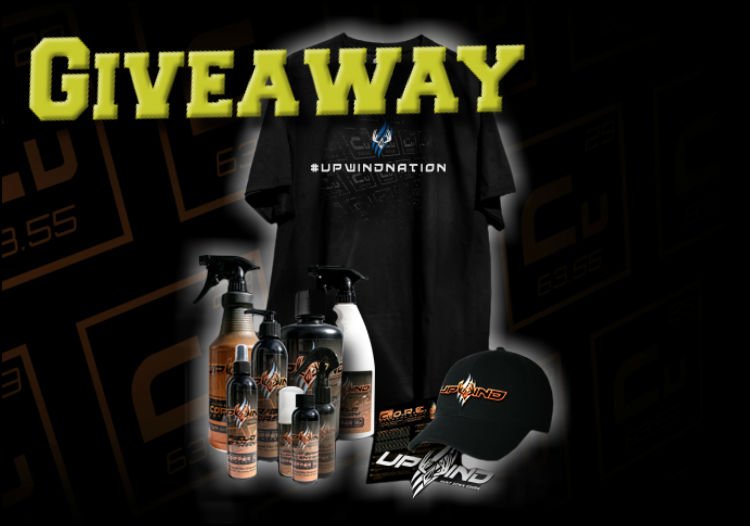 Upwind is bringing scent concealment to a whole new level and giving you a great new way to get your own. The UpwindNation members receive exclusive benefits. The program is designed for all hunters, from the average hunter to the industry pro. Members don't have to be on TV., but, they must promote enough throughout the year on social media to earn the required minimum of reward points each year and refer friends to join (simply share content at least once every two weeks and get a few friends to join).
Each year reward points are earned by logging into your account and simply sharing content found throughout the Upwind website. When you are logged in your earned points will automatically be added to your profile. Reward Points expire after each year and allow all members to keep their staff level discount earned and either maintain or earn new opportunities for each new year. Your total points earned will be shown in your profile for each year. When you cash in points for advancement or additional discounts it will only affect available points to spend and will not affect your total points earned for eligibility in contests. Each year our team will pick members to sponsor for the following year starting with who has the highest reward points and most referrals earned.
UPWIND GIVEAWAY PRODUCT DESCRIPTION
Upwind odor elimination pro pack provides hunters with a complete scent control system of products for the hunting season. 90 ounces of copper charged field spray to conceal all your clothing and gear. Use the large 32 oz. field spray and 2 oz. concentrate re-fill to spray down all your clothing, gear, stands, and blinds. 8 oz. and 16 oz. field sprays for your pack and a packet sized 2 oz. field spray for the stand. Wash your camo with 32 oz. of he laundry detergent designed to break down trapped odors and deodorize without leaving unwanted residue. Clean up your body odors with the 8 oz. odorless body wash designed to effectively clean and rinse easily. Use the foaming mouth rinse to quickly eliminate the bad breathe or mouth odors after drinking your morning coffee.

Included:
90 oz. of Field Spray: 2 oz., 8 oz., 16 oz., 32 oz., 2 oz. concentrate re-fill (makes 32 oz.)
32 oz. he laundry detergent
8 oz. hair and body wash
2 oz. foaming mouth rinse
White truck decal
#upwindnation black short sleeve t-shirt (choose your size)
Logo Hat (black, adjustable, mesh back)
Made in the USA
Experience the Upwind Difference
Charged Copper controls and continues to conceal your identity. Upwind copper scent control products incorporate the most advanced proprietary copper ion technology to eliminate a broad spectrum of odors. Upwind copper ion technology uses a charged catalyst system that rapidly reacts oxygen molecules with odor molecules.
There are many ways to enter the Upwind Pro Pack.
Upwind Pro Pack