The main conflict an outdoorsmen has these days is coming up with the money to pay for all the high priced tools we "need" to be successful in the outdoors. With the price a new bow, a gun or a boat can cost, how can we afford to spend the money where we really need it? TreadWright Tires has figured out how to give us the tools we need to get to the woods or water and do it for less than the cost of a new bow.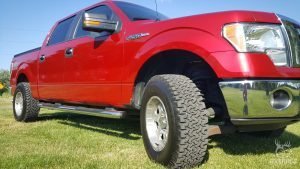 One thing many of us tend to forget every year and don't realize we need until it's too late is tires. Good tires that can take us deep into the wood comfortably without worrying about getting stuck is vital for all of us. But also good tires that can take daily driving on the interstate and thru the city everyday is a bonus. I've been needing a new set of tires that can do it all and decided to try out the TreadWright Wardens on my F150 for a couple months.
TreadWright Tires isn't your normal tire manufacturer. They take old tires, strip the old rubber down and put new rubber on. That process is called retreading and has been done for commercial tires like semi trucks for years. But TreadWright has mastered it for you and I to put on our everyday trucks and even some of our big toys. For me, I wanted an everyday all terrain tire as most of my driving is on pavement but I wanted to make sure for when I needed to go offroad, I'd have the tire that could do that as well. The Warden was an easy decision on the pattern I wanted.
So why TreadWright? For me, it was all about the price. I can't afford the tires I want at the size I want for my truck. That's a common problem with anyone that wants to put tires on that are larger than stock.  I mean let's face it.  Who wants those small stock tires on your truck?  So for me to be able to put the tire size I wanted on there and still be able to have a new tire, this was a no brainer for me.  Check out the the dilemma I was in when I chose to go with these tires. You can easily see the main factor in choosing the TreadWright Warden.
See the comparison between the TreadWright Tires Warden and the BFG AT KO2
TreadWright Warden Specs
285/70/17Retail: $155.00Load Range: E
Tire Tread Depth: 16/32"
Meas. Rim Width: 8"
Rim Width Range: 7.5-9"
Tire Tread Width: 9.875"
Section Width: 11.4″
Outer Tire Diameter: 32.625″
Max PSI: 80 psi
Max Load: 3,196 lbs
BFG AT KO2 Specs
285/70/17Retail: $258.00

Load Range: E




Tire Tread Depth: 15/32"




Meas. Rim Width: 8.5"




Rim Width Range: 7.5-9"




Tire Tread Width: 9.2"




Section Width: 11.5″ 




Outer Tire Diameter: 32.7″ 




Max PSI: 80 psi




Max Load: 3,185 lbs
So how's the ride?
I recently decided to change all the tires of my vehicles and get a few more tires for my oversized truck.This is the new tire that's oversized for my truck. But, that doesn't mean it's a rough ride. These are an all terrain tire that is made for the road and they ride like they were made for the road.  It's a smooth ride and even has a little hum to them that let you know that they are there for when it's time to plow thru the snow or get you down that trail. But these are retreads and the installers do need to make sure they balance them precisely.  Take them to a quality shop and you won't have any problems.
There is one thing that these tires will do that your standard big brand tire won't.  That's the "flash" that may or may not appear from the edge of the wheel. This is something that happens because of the retreading process and it's pretty easy to take care of. Check out below and you'll see what I'm talking about and how to fix it. It's also discussed on the TreadWright Tires website here.
This is a slight inconvenience but not a big deal. For me, I'll gladly spend the 5 minutes it takes to do this on a few tires for the cost savings in these tires.
Overall, I am very happy with my choice and the money I saved was put to a good use when I was adding upgrades to my kayak this year.
If you're in the market for some new tires on your truck, then I do suggest you compare all the options at TreadWright Tires to what you would want from the big brands. See the difference and think about what else you buy with that extra money you would spend.