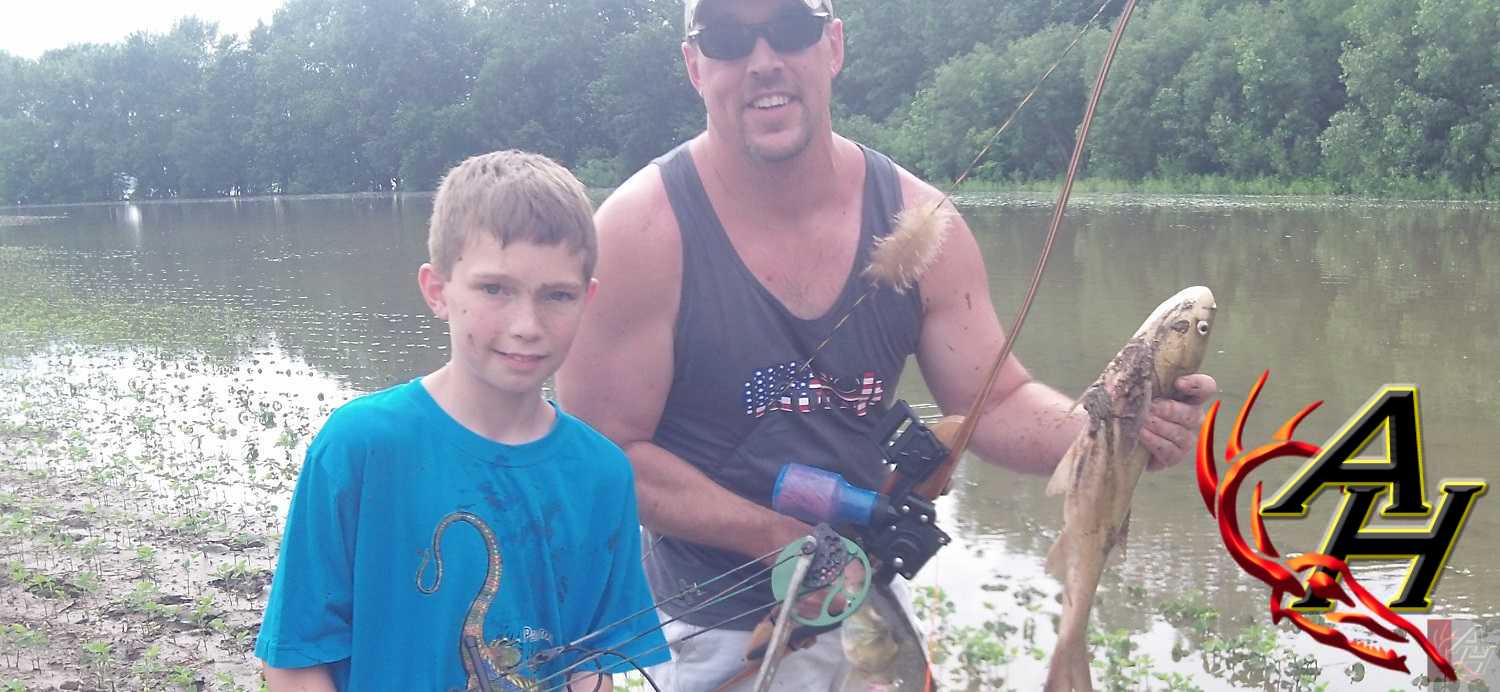 If you have taken a child hunting or fishing, you know how quickly they will get bored.  Heck, that's the case with any activity and kids.  But when we are trying to instill the passion for the outdoors with our children, the easiest way to have a successful outing. For this Father's Day, I had something happen that was very rare these days, an open schedule.  So I wanted to do something new to me and new to my son and daughter.  We decided to hit up my brother that lives just off the Illinois River and do some bowfishing.  I have waited to do this for a while as he has bragged about all the big carp he has shot, but between both of our schedules, it's never happened.
I have planned to do this for a while.  I've had one of my longbows all set up with an AMS and I was set.  But I didn't have anything ready for the kids to shoot with.  They have their bows and I have extra fishing arrows, I just needed to come up with something that's easy to use.  When I was their age, I remember using a Folgers can with string wrapped around it, so I thought I would do the same thing.  I found this plastic jar and thought it would perfect.  Sting would slide off easily and would be easy to wind up.  That's where the downfall of the day started.  The success of the day would start and end with this setup working as I imagined. The setup was simple, wrap the string around the jar and shoot.  Works great in the yard but not so much in the field.  The string was always falling off and getting tangled up.  My son was doing most of the shooting and he wasn't happy.  Most of his shots were short from tangled string and he was constantly having to try to fix it which means I was constantly stopping to untangle the string.  His patience was wearing thin and I could see the excitement of the day wearing off quickly.  He was starting to complain and hint at wanting to leave.  Something needed to happen or I wouldn't get him back out here again.  Meanwhile, my daughter who was only there because it was father's day, was off exploring.  It was time I lay my bow down and focus on his success.
After spending some time and finding the best one of his bow back up and ready, I helped him stalk the shoreline until we found a bunch of carp gathered in the real shallow end of the field.  It was the perfect setup for him actually.  A couple of dozen carp schooled up in a blocked end of the field and no way out except thru us.  This gave him multiple shots and the ability to connect with his first carp bowfishing.  Suddenly the success has changed his attitude as success always does with kids.  Now he's hooked.  But now I need to go shopping and upgrade his bow setup. In the eyes of our children, a successful outing isn't always the same as in our eyes.  With fishing, all they need is a few little bluegills or one catfish and they are having the time of their lives.  While out on the hunt, just seeing some deer walking thru a field a few hundred yards away is enough to get their blood flowing.  It's not hard to keep your child excited about the outdoors, they just need a little success and they will be hooked.