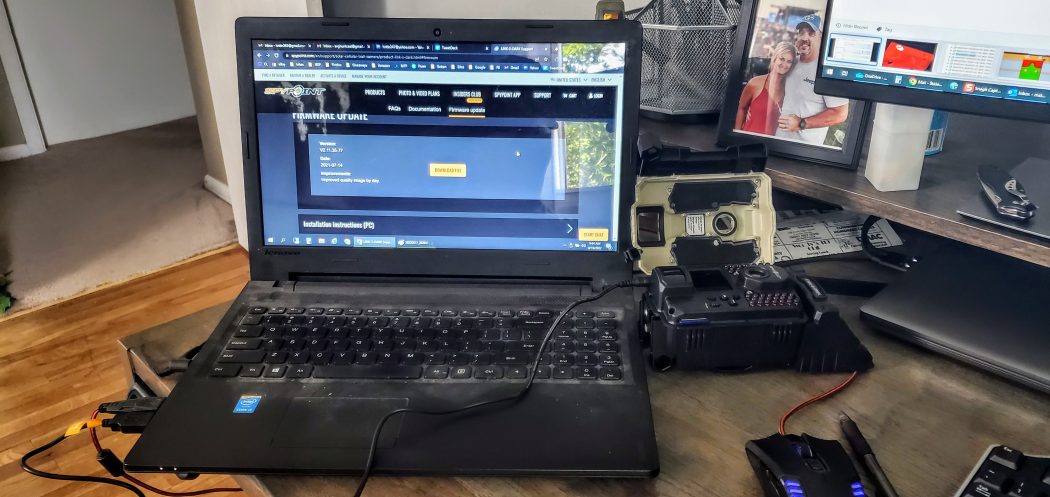 It's that time of year when we are all getting excited to get out in the woods and one of the great tools for all hunters these days is trail cams. Especially cellular trail cams like SPYPOINT LINK Trail Cameras.
We use a couple of different brands of trail cameras but SPYPOINT is my favorite.  For the money, they are hard to beat. The usability is a piece of cake and the phone app offers a lot of great features and adjustability.  But, if you don't follow a few simple tasks involved in Setting Up Your New SPYPOINT Trail Camera, you may have some easily resolvable issues.
Below we will review two things you should do before even turning the LINK camera on for the first time.  The first is getting the updated firmware. The second is making sure the internal battery is charged up.
Charge It Up (not all cameras)
For this example, I am setting up a LINK-S-DARK camera. These LINK cameras come with an internal battery that it needs to be charged up.  The solar panel usually takes care of this.  But if you're placing your camera in a shady spot, charging it up ahead of time only helps. This internal battery helps store the data from how you have the camera set up and any connection data it needs. This camera comes with a 12v USB cable you can use to charge it or give the camera full-time power to take pics.
Normally, you can set your camera out in the sun and let the solar panel do its thing.  For me, I like to make sure it's fully charged before I do anything.  When you plug it in, the screen will show you where the battery level is and when it's done.
Very simple step and may not be needed, but it doesn't hurt and can only help.
Updating The Firmware
Every camera has its own firmware file that can be downloaded from SPYPOINT.com.  Go to the "Support" tab on top and then choose the "Support by model" option.  From there you will choose the camera model you have. After that, just go to the "firmware update" section and download your firmware file.
After the download is complete, now is time to transfer the files onto your formatted SD card. The website has great instructions on how to do this, but we'll quickly review it.
The quick version is, you download a compressed (ZIP) file and you need to extract what's on it.  Take the files from the ZIP file and put them on your empty SD card.  That's it.  Take your SD card and place it in your camera.
SPYPOINTS cameras get a bad name because people don't take the time to use the cameras correctly.  Read the instructions and do what they say.  It will make your experience far better.  They are very simple cameras to use, if you use them correctly.