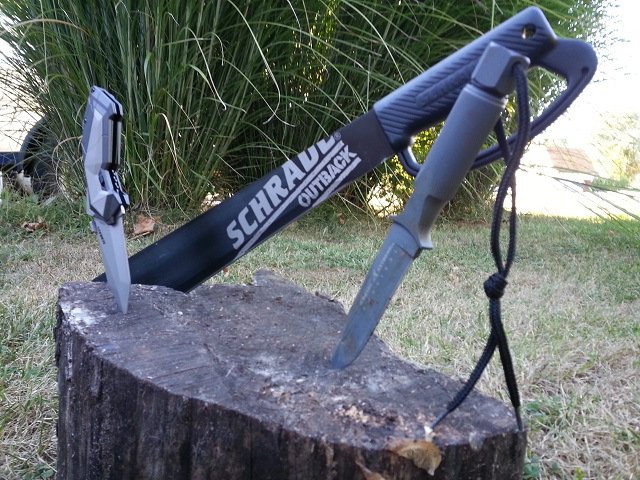 Knives are among the oldest tools known to man. We've had som­e version of the knife since the Stone Age when primitive hunter-gatherers chipped flakes from the sides of wedge-shaped stones to form blades.  After that there were knives made of bronze, then iron, and later, steel, as knowledge of metalwork progressed.  The concept of the knife of the years has never changed but the designs have. In 1904 Louis, Joe, and George Schrade started a company that would become one of the leading cutlery manufacturers in the world, the name of this company was Schrade Cutlery Company.  After many changes over the years, it became Imperial Knife Associated Companies.  In 1985 Imperial Knife Associated Companies became Imperial Schrade Corp. eventually becoming a leading division of Taylor Brands LLC. Today Schrade has reconstituted some of these well-known brands while continuing to grow and maintain a well-earned reputation for quality, value, and customer service.
---
Schrade Small Extreme Survival
Schrade Small Extreme Survival One-Piece Drop Forged Fixed Blade, Matte Finished SEA-1070 High Carbon Steel Clip Point, Water Proof Hollow Handle End Cap with Removable Magnetic 6-pcs Bit Set and Lanyard, Multiple Carry Position Ballistic Belt Sheath with Removable Storage Pouch and Lanyard
Overall Length: 10.3″(26.1cm)
Handle Length: 4.7″(11.9cm)
Blade Length: 5.6″(14.2cm)
Weight: 12.5 oz.
Model: SCHF2SM
Amazon Price: $62.58
Review Comments: 
The Schrade Small Extreme Survival Knife is about as durable as they come.  The high carbon construction will take a beating with the best of them and maintain a good edge.  The weather-resistant coating will stand the test of time for sure.  I like the included toolset hidden in the handle but it is a pain to get open from time to time.  In one instance I had to grab some pliers to get it loosened.  The sheath equals the construction of the knife.  The velcro wrap around the belt loop made it easy to hang on your side without unhooking your belt.  The added storage which is also removable will fit a folding knife, fire starter, or a sharpening stone.  I really like the hard plastic liner which made it easier to slide the knife in.  For your all-around survival knife that isn't too big but big enough for any situation, definitely take a look at the Schrade Small Extreme Survival Knife.  Sorry about the dirty knife in the pic.  It passed a test after a successful hunt.
---

Schrade Outback® 18″ Machete
Schrade Outback® 18″ Machete Full Tang Fixed Blade, Black 3Cr13 Stainless Steel Blade, D Guard PP Handle with Lanyard Hole, Olive Drab Military Style Belt Sheath with Built-In Sharpener
Overall Length: 18.0″(45.7cm)
Handle Length: 5.5″(14.0cm)
Blade Length: 12.5″(31.7cm)
Weight: 15.4 oz.
Model: SCMACH18CP
Amazon Price: $22.75
Review Comments:
For me, the machete is an integral part of the outdoors.  It is a tool that I personally never leave home without.  I keep them in my truck, mounted on my ATV, and always handy at the farm.  So with a versatile tool like this, different sizes have their advantages.  Spending any kind of time in the woods going off-trail, setting up treestands, or hunting the ever-dangerous morel, having a machete on your side is essential.  The Schrade Outback® 18″ Machete is a perfect example of a big tool in a small package.  The heavy 12″ stainless steel blade with guarded handle is easy to carry and still big and "heavy" enough to get the job done.  My Schrade Outback® 18″ Machete stays with me in my truck for whenever I need it.  The hard plastic sheath provides study storage that will protect the edge and also yourself while you carry or store this machete.  Although the sheath does come with the old military style belt clip that takes a special belt to use, its still a great sheath.  I found a belt at Walmart for cheap that works perfectly.  But I will be modifying the sheath to use on any belt.  For me, this machete is a must-own.
---
Schrade M.A.G.I.C. Assisted Opening Liner Lock Folding Knife
Schrade M.A.G.I.C. Assisted Opening Liner Lock Folding Knife, Bead Blast 4034 Stainless Steel Tanto Blade with Ambidextrous Thumb Plate, Grey Aluminum Handle with Light Grey Rubber Insert, Safety Lock, and Pocket Clip
Overall Length: 7.3″(18.5cm)
Handle Length: 4.4″(11.2cm)
Blade Length: 2.9″(7.3cm)
Weight: 4.9 oz.
Model: SCHA3
Amazon Price: $37.14
Review Comments:
The Schrade M.A.G.I.C. Assisted Opening Liner Lock Folding Knife is very easy to operate and comes as sharp as you will need.  The spring-assist on this knife is actually so fast and sensitive, it needs a safety.  After you handle this knife, you will quickly realize how important safety is.  A quick touch to the opening tab and the blade opens rapidly.  The overall construction of the Schrade M.A.G.I.C. Assisted Opening Liner Lock Folding Knife is very solid.  As a knife to be carried in a belt sheath, this would be perfect.  For me, I prefer using the clip and carrying knives in my pocket.  For that, I don't recommend this knife.  Forgetting to place the knife on safety while placing a knife in your pocket won't end well.  The edgy design makes it easy to handle and hang onto, but not in the pocket.   Besides that, I really like the assisted opening on this.  I have mixed reviews on this knife.  As an assisted opening knife goes, it does the job very well.  As a throw-in, your pocket everyday kinda knife, not so much.  (Before owning any assisted opening knife, check your local regulations as they can be illegal in some places.