You get what you pay for. This rifle scope review proves it.
When it comes to spending money, I'll admit, I'm cheap. That also goes for buying hunting and fishing equipment. I just can't ever justify spending the money it takes to buy high-end quality gear. Sometimes that works very well for me and other times it bites me in the butt. When I wanted a new scope for my .223 rifle, I thought I could get away with going cheap. Well, I was bitten in the butt.
While surfing the web and Amazon for scopes, I ran across a few off-brand scopes that seemed to have good reviews and were at a great price compared to similar models in the name brands. I figured it was worth giving it a try as I usually don't have bad luck with items like this.
I picked up an OTW Rifle Scope that's 3-12X40 and a BDC type reticle.  It was the size and magnification I was looking for as well as the bullet drop compensation to help with those long-range shots at a coyote or two. It has high reviews (haven't left mine yet) and everyone was saying great things about it. So it looked like a great deal on the kind of scope I was wanting plus it came with flip caps and a decent set of rings. So I ordered.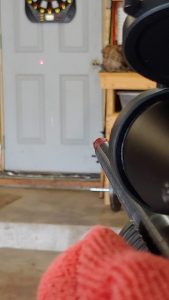 Upon receiving the scope, everything looked great. The scope looked good, optics seems clear in bright light and I really liked the eye relief. So I mounted it on the rifle and used a Firefield laser boresight I got in a HuntVault shipment.  Everything moved well, I liked the adjustment knobs and was pumped to throw some rounds through it. So off to the range we went.
Sighting in this scope is where things got interesting. As I get ready for the first shot, the first issue I found was the clarity. I'm at an indoor gun range with poor downrange lighting and I struggled to see the numbers on the target. Adjusted the focus on the scope and could either get the crosshairs focused or the target.  Could never see both crosshairs and target in focus which is a big issue. But I decided to shoot it anyway. Took first shot with basic .223 rounds just to get it close and it wasn't far off at 50 yards. Took the second shot and already noticed something going wrong.  The crosshairs are turning. I checked the scope and it's mounted right and everything is tight. After a few more rounds, the crosshairs have turned about 45 degrees. I'm done. Not wasting any more ammo with this scope. Total crap.
As far as a review on this scope, I think you pretty much get the idea. Be very very careful about buying cheap. I've been burned before, just got burned this time and I'm sure I'll get burned again. But if you're cheap like me, it's just a chance you have to take.  But for items like a rifle scope, it's worth saving up and buying brands you know and trust. Now I'm off to buy a Vortex.
Have you been screwed by going the cheap route before? Leave a comment and tell me your store.  Also, anyone got suggestions on a good scope?
Read more about rifle scope reviews at Rangefindertoday.com