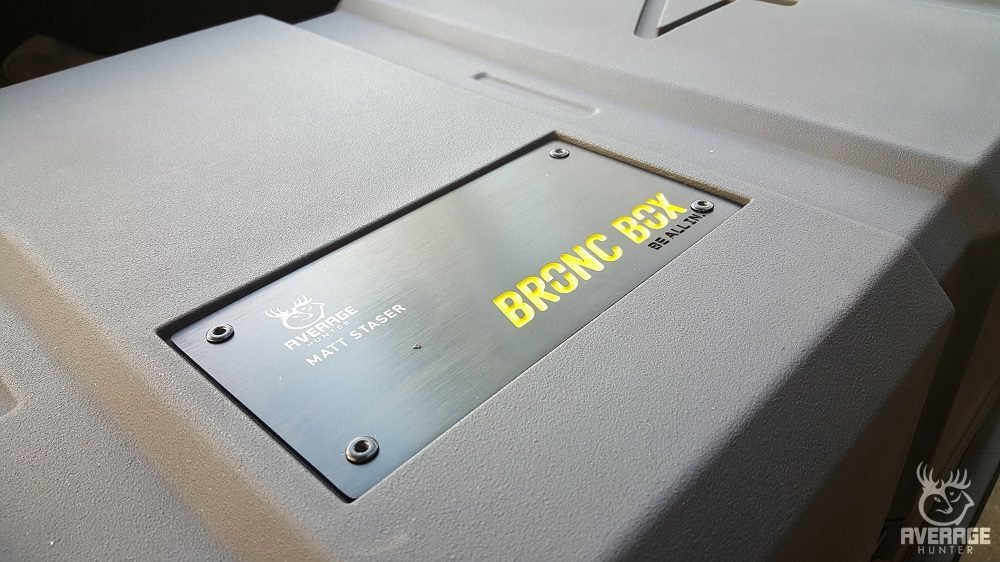 This time of year, our most vital tools and possessions need to be stored cleanly and protected from damage. For this hunting season, I am putting that trust into the Bronc Box
This year, Signature 4 introduced the Bronc Box which was built with one thing in mind. Keep all your gear in one place and keep your investments very protected.  The Bronc Box is a molded foam filled trunk very similar to all these high end coolers we have out now. It's built tough in every sense of the way and can withstand pretty much everything you can throw at it which is what I want protecting my gear. With the high prices of our hunting gear, I want something that I know is going to keep it safe.
This first version of the Bronc Box was built with a primary focus on archery. As in you don't need your bow case anymore for your compound bow. They built that right into the lid.  With a padded compartment separated by a sturdy divider, your compound will strap in snugly along with your quiver and even additional arrow holders for your spare arrows to be secured and not damaged.  If you don't use a compound or you're using it outside of archery season, it offers a separated storage location you can pack anything into.
| | |
| --- | --- |
| | |
This container still offers so much more that all hunters can appreciate. Items I have found to be great features are the non-skid pads, the roller wheels on one end, the long rope handles and the movable tray to separate your small items. With multiple locking locations, heavy duty latches and an air pressure relief port, the Bronc Box is also designed for travel. There's also some bonus items you can get like the divider that doubles as a cutting board or a small light that can also be flashlight or camp light.  They've pretty much thought of everything and I know that Signature 4 has more coming with future additions that will expand this for all hunting.
Now for the downside.
The Bronc Box is big. It has to be in order to store everything. It's also heavy as it needs to be in order to protect everything like it can. It's 20.67″H x 20″W x 48″L, and weighs about 55 pounds when empty.  A weight of 55 pounds empty is a lot by itself and handling a 4 foot long box at that weight isn't easy. After it's loaded down with all the gear you want or can put in there, it doesn't make loading it in the truck an easy one person job. Personally, I shouldn't be saying this online, but because it's that heavy and awkward, I just leave mine in my truck as much as possible. Other than the weight and size, it has a pretty hefty price tag on it. Retail is $795.00 on their website now.  Is it worth it for your $1500 compound and $2000.00 in other gear? If that is the case, then I totally think it's worth it. But for this Average Hunter, the most expensive thing I have in my Bronc Box is my Hunter Safety System
vest which even cost more than any of my bows.  But I do like having it a lot and it does a great job keeping all my gear scent free and safe. I've even modified mine and added ozone to it.
Go check out the Bronc Box on their great website and see more about it and a lot of great pics at broncbox.com