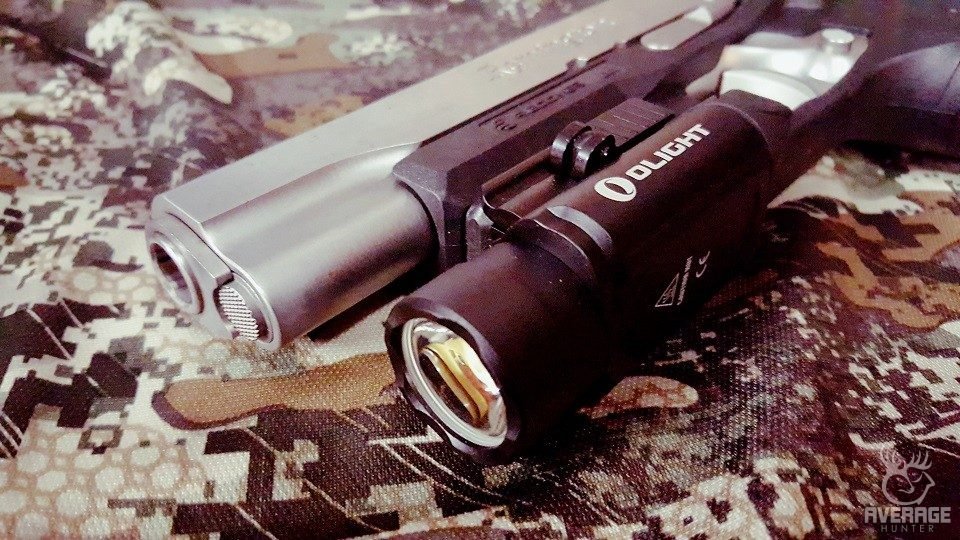 Keeping a home defense weapon handy is becoming more and more important these days and equipping that weapon with easy to install and easy to use accessories is just as important. A pistol light is a great option to add that can be a great benefit to defending your family and home, you can even include a pistol silencer to your collection to make it even better. Here is my review of the Olight PL2 Pistol Light that I added to my Remington 1911.
When I'm shopping for a light of any kind, I shop for simplicity. I am looking for a light and that's it.  I don't need one that sync to my phone or have 57 different light setting so whenever you hit the button, a different light level comes on every time or just trying to turn the light on and off becomes a challenge in itself. Simplicity is an even more important feature when dealing with a light that could part of a weapon that may be needed to save your life or the life of your family. The Olight PL2 offers all of it.
Description:
The PL-2 Valkyrie is the brightest compact weapon light on the market using a CREE XHP35 HI Led delivering a scorching 1200 lumens.

The light uses two side by side CR123A batteries in common form factor to the industry for a known and comfortable feel. The light features a TIR optic lens providing a 245-meter-long focused beam that is still wide enough to see all around you to eliminate any blind spots in the dark. The heavy duty quick attach and release mounting system allows the light to have a tight hold on any firearm with a 1913 or Glock style rail.

The ambidextrous switch allows the user to continue to use their preferred grip on the firearm while still being able to activate the switch at a moment's notice in a high-stress situation.
GENERAL DATA
Beam Distance (ft)

770

Beam Distance (m)

235

Max. Performance (lumens)

1200

Charge type

Optional charger

Compatible Batteries

2 x CR123A/RCR123A

Light Intensity (candela)

13800

Light Form

Standard hotspot diameter with impressive distance. The perfect all-around beam profile.

Lens / Reflector Type

TIR reflector (big, defined wide hotspot)

Mode Operation

Side Switch

Form/Size Factor

Small size (Car key / Zippo Lighter)

Series

Series PL (gun flashlight)

Unique Characteristics

ambidextrous switch that can be front pushed or side pressed

compact to fit all standard pistol sizes


narrow and simple design perfect for IWB carry
Testing The Light
Because of the main requirements, this is an easy test. All I'm looking for is if it's easy to install and how easy it is to operate. Installing the PL2 couldn't be easier as there are no screws or adjusting other than swapping the stopper for type of rail. Installation is just placing the light where it fits and flipping the lever. That's all, it's installed.  It will fit on a lot of guns and some of the best 9mm handguns. Operation is just as easy.  There are three modes on this light and only one light level. With the ambidextrous switches, you reach with one finger to to either press and hold which turns the 1200 lumen light on for only when it's pressed or quickly press and release either button to turn on the light completely. There's no screwing that up when you're facing down some trouble. The PL2 also offers a mind melting strobe that can turned on just as easily by pressing both sides of the switch at the same time.  Again, very simple which is a huge factor.
| | |
| --- | --- |
| As stated many times in this review, when I need a light, I want one that is very simple to use. I can't take the chance that when I'm faced with the time of need, there's no chance that I will hit a wrong button or the light won't turn on how I want it.  The Olight PL2 Pistol Light is a light that is all of that. Very simple to install, very simple to operate and very effective and putting out a lot of light.  This light will be an integral part of my home defense from now on. | |
---