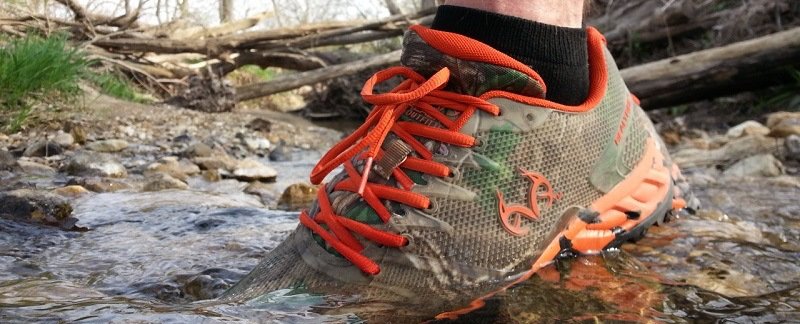 Quality at a Great Price are two items you rarely find describing the same thing anymore.  Especially in a athletic shoe.  The Realtree Cobra from Old Dominion Footwear is a shoe that falls in that rare category.
I am always on the search for a shoe that can withstand the abuse I can dish out and NOT take half my paycheck in the process.  I do a lot of running on the road and on the trails and don't want to have to drag around different pairs of shoes that only work well with one or the other.  The road puts a beating on my feet and I need some extra cushion.  While on the trails, I like less cushion so I can feel the rough ground.  Some runners have a complete opposite approach, but that's just my style.  When Old Dominion Footwear contacted me about testing out their Realtree Cobra shoes, I honestly didn't have very high expectations.
I am used to spending well over $100 on a name brand pair of shoes so when I looked into the Realtree Cobra that are sold for $65.00 on their website, I right away thought these aren't going to last.  Once I got them I pulled them out of the box, put them on, and hit the road.  Within the first block I was impressed.  The Cobras fit well, soft feel and no rubbing.  I just put a couple miles on them that night but I have been beating them up as much as I can ever since.  I have been holding out writing this review as I really wanted to put these shoes to the test.  I knew I couldn't give a good review just after a week of wearing them.  I needed to really abuse them with many miles on the road, many miles on the trails and wearing them just as an everyday shoe.  They have lasted and still look like new.  I am still getting the comfortable cushion on the road I need and also the sensitivity I need on the trails.
There are some other key features I like about these shoes besides the great fit and comfort. They have an aggressive tread pattern that provides great traction on the slippery trails.  But to me the best feature is the whole shoe in encased in a rubber layer that keeps the elements out and makes cleanup a breeze.  As you can see in the pics in the water, my feet never got wet except when the water got to the laces.
Below you will find the details of the shoe from the manufacturers website.
Show off your love of hunting year-round with these Realtree camo athletic shoes from Old Dominion Footwear. The Realtree Xtra Green® canvas with a clear, mesh overlay, will bring style and ease to all your outdoor activities.  The ultra-light weight and flexibility make them essential for all-day comfort and wearability. The rubber EVA compression-molded outsole and rubberized upper protect the shoes, while the breathable weave keeps feet breathing.  The memory foam footbed combined with the heel cuff and premium arch support provide exceptional comfort. If you're looking for comfort and durability for your athletic shoes, these are your shoes.  Realtree Outfitters® introduces the Cobra style for men, available in orange.  Realtree Girl® brings the Mamba style for women in your choice of orange or hot pink.  Both the Cobra and Mamba styles are also available in youth sizes.

Upper/Lining

Realtree Xtra Green® pattern underlay

Clear rugged mesh overlay

Midsole/Outsole

EVA midsole

Rugged/durable rubber outsole with arch protection insert

Real-Shock footbed

Premium arch support

Cushioned sock with gel inserts at strike points
So what do I think about the Realtree Cobras from Old Dominion Footwear?  I still wear them while running, biking, working outside and even the occasional date.  I honestly can say I am very impressed with these shoes and will recommend them to anyone that is looking for a quality shoe at a respectable price.
Old Dominion Footwear offers a full line of Realtree Footwear.  Check them out to find the styles you need.