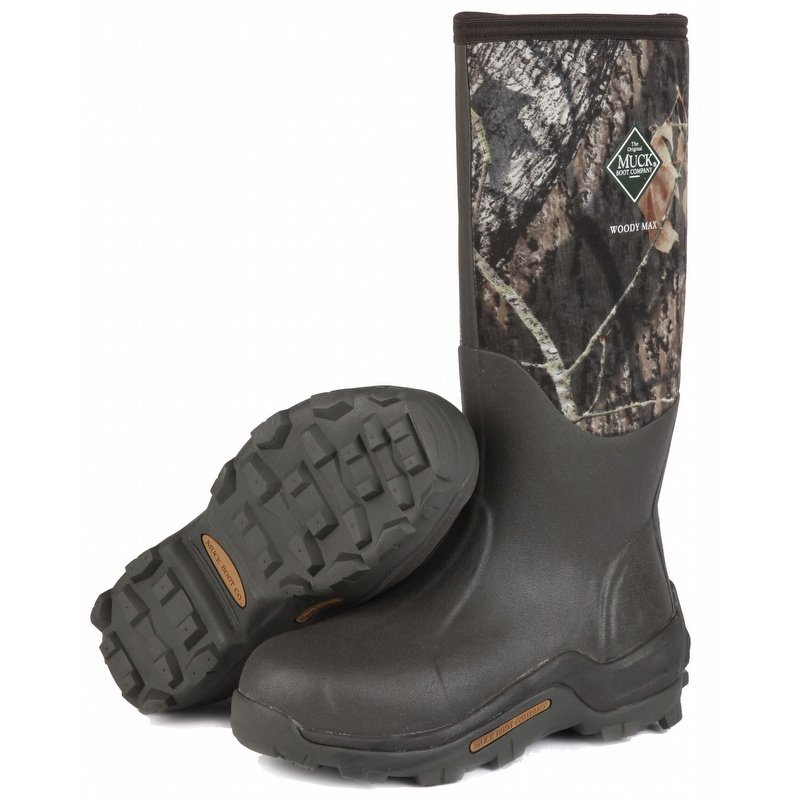 This review is for the Muck Woody Max Cold Weather
Hunting Boots
. The Woody Max™ is the best 100%
waterproof hunting boots
made for prolonged cold conditions. The entire 16″ knee-high boot is waterproof, enabling you to track through swampy areas, streams, snow and wet tall grass. Woody Max™ features a CR flex-foam bootie completely lined with premium fleece and comfortable Airmesh™. Woody Max™ is a serious hunting boot for serious bad weather.
100% waterproof to the top
Mossy Oak Break-Up Camo
Comfort range 60°F to -40°F
Blocks human scent with its closed cell neoprene & rubber construction
Company Information: 
Muck Boot Co
www.muckbootcompany.com
Retail Price:  $184.99 (Cabela's)
Concept of Product: 8/10
             Nothing new on this concept.  A sturdy well-built boot designed to keep your feet dry and warm in the harshest of elements all while maintaining comfort and "scent free".
Design of Product: 9/10
            The design is wonderful.  The exterior appearance is a classic design that really can't be changed.  For what these boots are designed for, they are limited on what can be done.  But, for an extreme cold weather boot, I was very pleased with the design.  They were lighter weight than I was expecting and still as or more comfortable to walk in then most light weight boots of this style.            The tread pattern works very well also.  In the times I have used these boots so far, the terrain has been muddy, slippery, snow, ice, wet and everything in between.  Climbing steep hills and tree stands were done easily.
Quality and Durability: 9/10
            After limited but harsh use, these boots show no sign of wear.  I tried to put them through every condition a normal outdoorsman goes through in a season with no failures.  Kicking threw briar patches, ice jams and other conditions that have been known to ruin a good pair of boots in the past.
Usability: 8/10
            As described before, these are a harsh weather boot designed to be used in the cold weather.  That being said, if your going out for a long walk, your feet will get very warm.  Also being a cold weather boot, they are bigger and thicker than normal which takes away from flexibility in the boot.  You get used to it pretty quick and don't notice it.

Size and Comfort: 8/10
For what they are, an extreme cold weather boot, size is normal and comfort walking and sitting makes up for it.  Like I just mentioned about how they are big winter boots, they are still a lot more comfortable than most other boots with similar claims.
Does it Work: 8/10

I would have given this a 9 but my feet got too warm.  It may have been because I was thrashing threw some rough terrain seeing how well they handled.  Also it would have been higher if I could have tried them out in some more extreme weather.  The coldest temps I used these in was 25 degrees.  But that was sitting in a tree for 4 hours with a steady wind.  We all know how cold that can get.  This is the first boot I tried that I didn't have frozen toes at the end of the hunt and I grew up using the big clunky Mickey Mouse boots.
Price Comparison:
         This goes with the old saying, "You get what you pay for."  I have had many "cold weather" boots and nothing has ever worked in the past.  I always end up taping heat packs to my toes.  There are some these where you can't go cheap.   A google search will result in a range of prices from $130 on up to $210.  Pick a trusted source and give them a try.
Comments:
Overall I am extremely happy with the Muck Woody Max boots.  But I don't see them as a full season boot.  They just do to good of a job at what they were designed for.  For sitting in a tree or a pit somewhere, they are perfect.  If your going to be walking all day chasing rabbits or quail, I would look at another pair of Muck like the Wetland or Woody Sport.*** During these tests, I wore a thin wicking sock under a cheap wool sock.  Wearing a single pair of cotton socks might get different results.
Overall Rating: 8/10