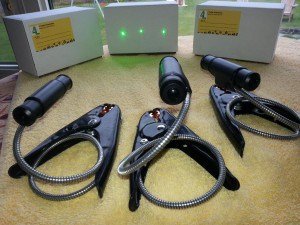 How many times have you just made that great shot and watched that critter run off into the distance.  You know you made a great shot so you watch where it ran by that one tree a couple hundred yards away and wait till dark.  All you have to do is walk over to that tree, pick up the blood trail and find your trophy.  But its now dark, you can't find that tree you saw earlier and now you can't find that blood trail.
Product Name: The 4L
Product Description: The 4L ('Last Light Laser Locator') is a big game hunting and tracking aid. It is made of a compact portable
platform and a laser pointer that shoots a beam from a hunter's location to a shot's area of impact. Its purpose is to mark the spot where tracking should begin, overcoming the challenge of maintaining line of sight, especially in areas where swamps, rivers, and valleys need to be negotiated.
Concept of Product (Brief Description): Mark last location of animal for tracking purposes
Concept Rating 1-10 (10 is best): 8
Comment on Concept: In many cases, this product will be very handy and make tracking wounded or downed game a lot easier.  It is something many hunters can use.
Quality & Durability Rating: 8
Comment on Quality & Durability: Clamp and stem is very durable.  I don't see the clamp wearing out for a lifetime.  I can't comment on the laser besides telling you it is bright and never failed during any testing I did in the field or all the times my kids played with it out in the yard.
Usability Rating: 9
Comment on Usability: Can't get much easier to use.  You clamp it on a steady object, adjust the location of the light and your done.  The stem does take a little work to get positioned, but it stays where you leave it.
Size & Comfort Rating: 7
Comment on Size & Comfort: I wish it was a bit smaller.  I am referring to the clamp.  It works great and probably needs to be that big, but I would like something smaller.
Looks Rating: 8
Comment on Looks: This is a simple and effective product that doesn't need to be fancy nor can it.  It has a purpose and does it.  The maker could spend a lot and try and get it looking fancy, but it will be a waste.  For me, it looks great.
How Does It Work Rating: 8
Comment on How it Works: The 4L does exactly what it was built to do.  It will clamp on pretty much anything and hold that laser right where you want it.  As I mentioned above, they only issue I saw with it was adjusting the laser.  Not sure if that can be tightened up or not.
Highlights of the Product: I can see this being used for other applications such as predator hunting at night
Retail Price Range: $44.95 +S&H
Price Compared to Similar Products of Similar Quality: I don't think I have seen anything else on the market to compare this to.
Highlights of Company Website: Website is clean, well put together and easy to negotiate.  It has all the info anyone would need to know about the 4L.
Overall Product Rating 1-10 (10 is best): 8
Final Comments on Product: The product works.  It's that simple.  The only issues I have with it would be things that would probably drive the cost up.  Smaller clamps that work just as good as the big ones and a brighter laser.  But that wouldn't stop me from purchasing the 4L.