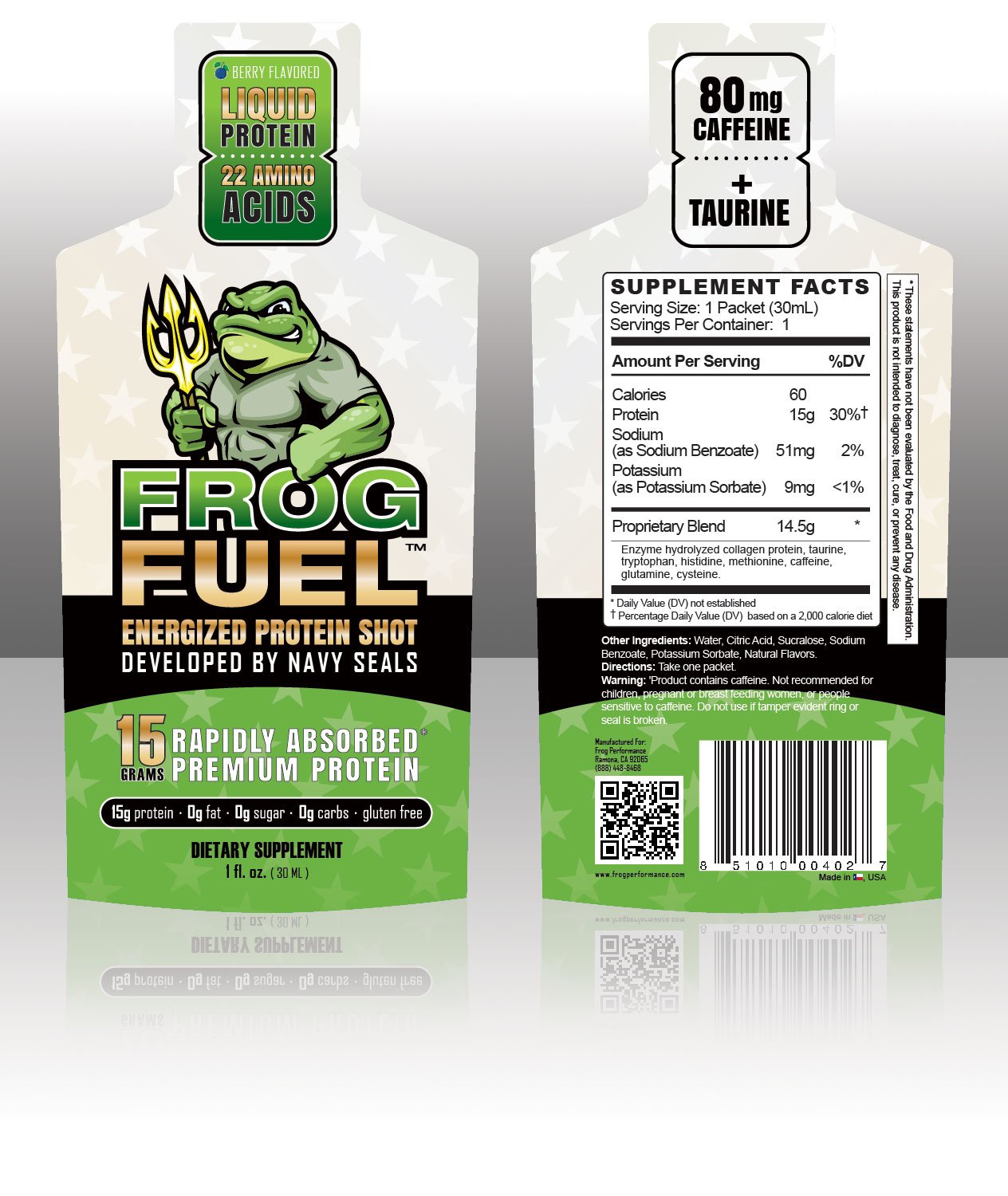 This Average Hunter has a strive for being physically fit to fulfill a better experience on the hunt, the hike or just trying to keep up with the kids in the yard.   With that strive, I look to added workout supplements  to help in any way to make for a better workout and most importantly, a faster recovery.  When I ran across this product on Twitter, I knew it was something I had to try.
What's so different with Frog Performance FrogFuel?  Are all of these protein supplements the same? Probably not, I can say it, but I am not the one who will answer that. For protein supplements review, you can Discover more at My Fitness Hub to get the most precise information. Those are some of the questions I have with all of these on the market today.  The more and more I read about these type of supplement, the more I realize they are all different.  The science of this is way to deep for this conversations and this Average Hunter in particular.  Threw all the powders, shakes, pills and everything else I have tried, I know what my body needs and what actually works for me.  That is what drove me towards this product.  It has ingredients I know I need.  FrogFuel is designed to make you perform better and recover faster.  This product
A little about Frog Performance.  I will just say that this is one of the things that got me even more interested.  FrogFuel was designed and is owned by two guys that met when they were SEALS.  They know the physical demands a body has to go thru in the absolute worst case scenarios and also how important it is for your body to recover and heal quickly.  I don't plan on jumping out of a helicopter with 40 pounds of gear 2 miles off shore somewhere, but if this stuff is what helps them, then I think its good enough for me.
My testing of FrogFuel starts with the beginning of my own boot camp.  I was just starting a "boot camp" style class that I knew my body wasn't ready for.  I started this class with no supplements.  I wanted to set a baseline for how I would feel.  Well, that was a mistake.  I never felt so much pain that lasted for so many days.  You know the class is gonna be hard when our instructor, who is still active military himself, has us so worn out in the warm-up and then starts the lesson.  I still prepared prior to class with plenty of water all day, slight increase in carbs and finished with the classic banana afterwards.  I did this for every class in the last 5 weeks.  Like I mentioned, the first week was no supplements to help with class.
The second week I decided to boost my protein with my favorite powder.  I continued to prep each day of class with added water and slightly higher carbs.  For this week I added an added protein shake in the afternoon and one right after class.  Everything is getting better.  Less pain during class and recovery not lasting for days.  Still not what I am hoping for.
Third week is time for some FrogFuel.  I had high hopes for this.  That week I used the Energized FrogFuel which has an added caffeine boost that is supposed to help you get thru the workout.  This is where my body acts different then most.  Caffeine doesn't effect me like it does most others.  When I used to drink soda, I could drink a Mountain Dew right before bed and sleep fine.  A 5 hour energy really doesn't do anything for me.  So I wasn't surprised when I never noticed any difference in energy levels during my workout.  But for me, I really didn't care about that.  I was going to push just as hard whether I was tired or not.  Our trainer wouldn't allow it.  I took one of these little 1 oz gel shots before workout.  The workouts that week went great.  The pain during the workout wasn't as intense as it usually was and during our 20 second break between sets.  After class, I was feeling great and ready to go again.  The real test would be the next day.  I was pleasantly surprised, I got out of bed pain free.  The next day, pain free.  A+ for first week of trying FrogFuel
The forth week was back to protein shakes.  Workouts felt kinda week and I was a little sore the whole week.
Fifth week is back on FrogFuel.  This week is using the standard FrogFuel 1oz gel shot.  I followed up the workouts immediately with the supplement.  It didn't help my actual workouts but it definitely helped my recovery.  I was back to going the week pain free.
To finish up the test I went a workout without any supplements.  I didn't want to, but I was out of FrogFuel and I knew that class that night was supposed to be really brutal.  So I figured I would see what I would feel like afterwords.  Well 5 days later and I am still sore and wishing I had more FrogFuel.
"Because FrogFuel™ is concentrated and predigested, the complete amino acid profile is in a form that can be immediately used by the body to build muscle and aid in recovery — allowing athletes to enjoy the powerful benefits of hydrolyzed protein WHILE exercising; Some protein products will not benefit the body for many hours. However FrogFuel™ is different in that it benefits the body immediately rebuilding muscles and aiding in recovery." —Dr. Joyce Gilbert, PhD, RD, LD/N, Director, Marilyn Magaram Center for Food Sciences, Cal State Northridge
Do I recommend Frog Performance FrogFuel, oh ya.  It did.  Go to their website and read all the information on it and try them out.  Comment below with any questions as I don't think I covered it all here.
http://www.frogperformance.com