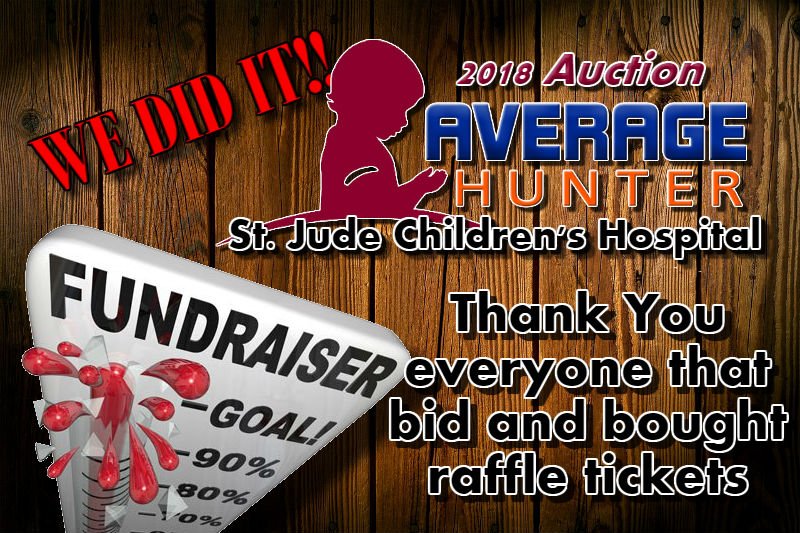 The 2018 Average Hunter St. Jude Auction is in the books and I couldn't be happier with the results.
Every year when I put on this fundraiser supporting St. Jude Children's Hospital, I have two goals. That is to bring a great collection of items from all over the outdoors industry that everyone can find something that interests them and of course, to raise as much money I can for the kids of St. Jude. This year I met both those goals and then some.
With items from all over the hunting, fishing and general outdoors, it turned out to be a great collection of items that you all supported very well. I had a goal when this was started to be able to give $7500 to St. Jude.  With all the support of the auction bids, the raffle tickets and the very gracious support of the sponsors, we were able to give a total of $8350.00 to St. Jude Children's Hospital.  That far exceeded my goal.
How your support helps:
Thanks to committed donors like you, families never receive a bill from St. Jude for treatment, travel, housing and food — because all a family should worry about is helping their child live.
St. Jude is working to drive the overall survival rate for childhood cancer to 90%, and we won't stop until no child dies from cancer.
One child saved at St. Jude means thousands more saved worldwide
I can't say thank you enough for everyone's support on this and really can't thank the sponsors enough.  Next time you're in the need for some new gear, I hope you can give some extra thanks and use one of the sponsors. They deserve a lot of credit.
Thanks again and again, Matt.