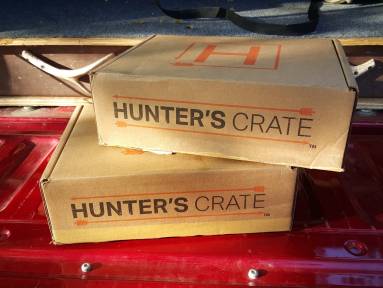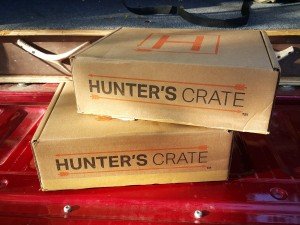 We've all seen these monthly clubs before.  They come in pretty much everything from a jelly of the month club to even beer.  The last couple years I have been starting to see more specialized clubs form that reach outdoorsmen groups like us.  Now hunters finally have something from Hunter's Crate.
– HOW IT WORKS – 
THE GOAL
Hunter's Crate is a family owned business with a big dream: to deliver the best products and hunting gear the outdoors have to offer into the hands of hunters all over the country – every month.
THE IDEA
Purchase a subscription from Hunter's Crate to receive monthly care packages featuring professionally tested products, valuable gear and pro-tips, and tasty snacks & seasonings! The value of every box is guaranteed to always exceed the monthly cost. For example, if you pick our 12 month plan ($360=$30/month), we'll send you monthly product boxes with $40-60 value* in amazing products from well-known companies and hidden gems you might not otherwise encounter.
THE THEMES
Expect turkey hunting themed packages in the spring and deer hunting themed packages in the fall – and a mix of everything in between. At the end of the year (after you've harvested a freezer full of wild game) you can look forward to a variety of marinades and BBQ sauces.
THE PERKS
With a membership, you are also automatically entered into giveaways for prizes we might not be able to fit into our boxes. How does a high end hunting knife or guided hunting trip sound? Don't forget to rack up and redeem Hunter's Crate Points!
The Field Test (1 Month Plan) $40.00
The Avid Hunter (6 Month Plan) $210.00 ($35 month)
Hunter's Crate Pro-Staff (12 Month Plan) $360.00 ($30 month)
 So far, I am hooked on Hunter's Crate.  Already able to try and use gear that I wouldn't have before.  I am already excited about November getting here and the next shipment.  I know the longer Hunter's Crate is around, the better these boxes are gonna get.  Check out my video below and watch as I pull all the great gear from the the Hunter's Crate.