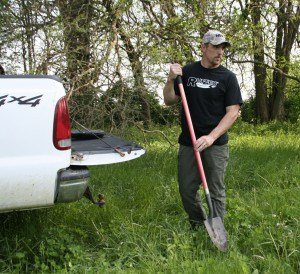 "Rugged. Casual. Reliable." are some of the first words I use when looking for gear that I can wear in my everyday life of being in the Outdoors.  Usually, what I find is lacking one of the words and they never last.  So when I find something that fits all of those descriptions and is also something I can wear to my everyday office job, well this Average Hunter will jump at the chance to try them out.
Mountain Khakis is a apparel company based out of Jackson Hole, Wyoming.  Their mission is "To be the best mountain-inspired lifestyle-apparel brand.  Period."  More about Mountain Khakis from their website "Established in 2003, Mountain Khakis quickly became a staple in the wardrobe of everyone from ranch hands to golf pros, those who travel by jet, as well as those who travel by thumb.  The Mountain Khakis brand story continues to resonate as it connects to the enthusiast who believes that freedom and rugged adventure is a way of life."
I was given the opportunity from Mountain Khakis to try out two of their items, the Broadway Fit Original Mountain Pants and the Classic Chamois Shirt.  At first examination these items were noticeably built to last.  Triple stitching, heavy duty material  extra material in the right spots to allow movement and just plain tough.  One of the items I was worried about with the Mountain Khakis pants was the material.  I have tried similar style pants in the past from high end manufacturers to only get annoyed by the noise the pants make.  It's kinda like the sound tent material makes.  I can't explain it, but I am sure you know what I mean.  I will admit, right out of the box, they did make some noise.  But after quick breakin wash, they were perfect.  I wear these pants everywhere now.  As I mentioned above, I found something something I could also wear to my "no jeans" office job, well these were it.
I am equally impressed with the Classic Chamois Shirt from Mountain Khakis.  It's a heavy duty, light weight, COMFORTABLE shirt that I would wear literally just about every day.  It became my daily jacket for everything and has held up to all kinds of abuse.  The main thing I have issues with on 90% of the long sleeve shirts out there is shrink.  I have to buy shirts an extra size up and wash them several times before they fit right.  This shirt fit great right out of the package and still fits the same today.  When I said I would wear this everyday, I was washed about every other day.  I just wish it was still cold out so I could keep wearing it.
My review of the Mountain Khakis gear has gone about as good as you can get.  Some might be hesitant from the prices of these items.  The pants retail for $80 and the shirt goes for $75 (both in my sizes).  Normally I would be a bit shy of these prices as well.  But the statement "You Get What You Pay For" does definitely apply in this case.  Pending dropping that chain saw on your leg or being attacked by a raged cougar, these will last you for years and well worth the investment.
Below images and information is from MountainKhakis.com
Our #1 best seller, now in our Broadway Fit for slimmer fit and low rise. From basecamp to boardroom, our OMP is the definitive outdoorsman's pant. Our proprietary 10.4oz cotton canvas is unmatched in rugged durability and buttery softness. You'll reach for them every time. Perform best when worn daily. Flat front and rear patch pockets. Action gusset. Triple-stitched. "Mudflap" reinforced heel cuffs. 5 hand pockets. Low-rise, relaxed fit. Garment washed in 6 colors. Rise Above It with MK

5.25oz 100% Cotton 2-Sided Brushed Flannel
Rounded Chest Pockets with Button Closure
Antique Silver-Reinforced Buttons
Dual-Shoulder Shooting Patch Front Yoke
Signature MK Back Yoke
2-Button Adjustable Cuffs
Drop Tail Back Hem
Embroidered Logo Treatment on Back Right Shoulder
Garment Washed
Casual Fit

Our take on the classic chamois shirt, ours is winning the vote for best-looking, best-fitting, best-feeling, and all-around best-dressed. Designed for days on the ranch and on the range alike. 2-sided brushed flannel for the ultimate tactile experience. Dual-shoulder shooting patch front yolk has even you south paws covered. Rounded chest pockets with button closure. Antique silver-reinforced buttons. Drop tail hem. Casual fit. Garment washed in 4 colors. Rise Above It with MK

10.4oz 2-Ply 100% Cotton Canvas
Slimmer Fit Through Thigh and Leg
5pockets
Diamond-Shaped Action Gusset
Reinforced Heel Cuffs
YKK® Zippers
Triple-Stitched Seams
Shaped Waistband
Garment Washed
Low Rise, Broadway Fit