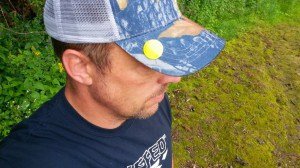 We review the Mosquitno Silicone Wristband and SpotZzz with Natural Insect Repellant.
This is the time of year when we all want to be outside and for a lot of us, we are having an unusual cool summer that is allowing us more time outdoors.  But of course, when summer comes, so does the mosquito.  We have all sprayed ourselves down with one of the stinky sprays and then it gets on everything we touch or sit on the rest of the day.  Personally, if I am only going to be outside for a short time, I would rather deal with the mosquitos than have to spray myself down and smell that spray all day.  Over the recent years, companies have come up with many stand alone products that give you protection without the spray.  Some work good, most not so good.  Let's see how the Mosquitno products work against the wide array of Midwest mosquitos.  Check out the two products below that we are testing.
Spotz – New!

heavy-duty sticker infused with citronella
lasts for 3 days – up to 72 hours of exposure
stick to your clothing, hats, shoes, anywhere
6 fun themes
all-natural, safe, non-toxic, DEET-free
Safe for kids 3 yrs & up (can be a choking hazard)
Adult Size Bands

silicone rubber wrist band infused with citronella oil
lasts for 6 days – up to 150 hours of exposure
resealable package to preserve effectiveness
sporty, comfortable wristband in lots of fun colors – even glow in the dark!
kids and adult sizes
all natural, safe, non-toxic, DEET-free
waterproof
Starting With The Wrist Band

The Mosquitno Silicone Wrist Band is lightweight and stretches easily.  I have large hands and it easily stretches over.  I waited to put it on until I was in the thick of the mosquito squadron.  I was in the woods checking trailcams and getting bombarded by those little missiles from all directions.  Once I opened the pack, I noticed an immediate retreat.  I was very impressed with how quick it worked.  Was it 100% effective?  I would have to answer that as a no.  There are always going to be a few strong mosquitos that make it thru and even some really strong ones that can handle anything as you can see in the pic on the right.  But for the ease of use and instant effectiveness, the Mosquitno Silicone Wrist Band is a great item to keep around.
The New Spotz Stickers
M
osquitno Spotz stickers are another quick and easy option to deter those mosquitos.  As a simple sticker, they can be placed anywhere.  I really liked the ability to pinpoint the location of where you really want the mosquitos to vanish.  The Mosquitno Spotz Stickers are infused with the same citronella as is in the
wrist band, but from what I experienced, not as powerful.  I liked having the sticker on my cap as in the picture.  It did great keeping the mosquitoes away from my face which is where I get bothered the most.  It worked great for keeping most of them away, but just like the wrist band, there are still a couple that get thru.  Not a big deal for me.
For me, both Mosquitno products are great items to keep handy.  I will admit that covering your whole body in a stinky oily spray works better, but I really don't want to do that as often as I need to battle mosquitos.  I for one like these and will continue to use them for short term fights against mosquitos.
To find out more or to order these products, go to their website at www.mosquitnoband.com
Disclosure of Material Connection: I received Mosquitno Wrist Band and Spotz Stickers for free from Mosquitno as coordinated by Deep Creek Public Relations in consideration for review publication.