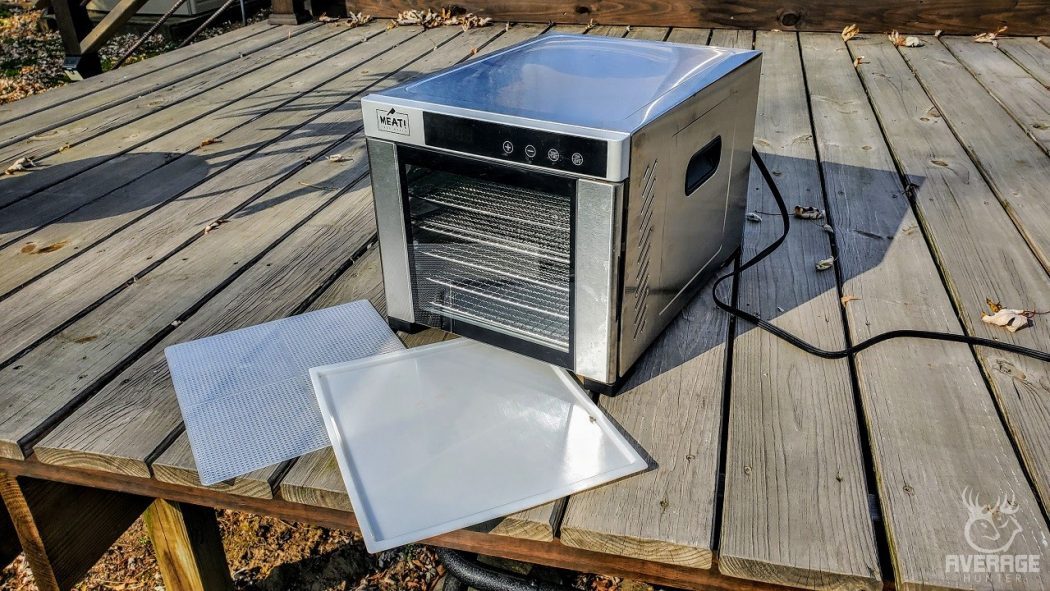 With it being hunting season, we're all going to God's grocery store and filling our freezers. One of the favorite things to do with our new supply of meat is of course jerky.  I'm trying the MEAT! 6-Tray Dehydrator with some good clean venison and some other fun foods.
MEAT! is a newer company to the food prep and preserve market.  They focus their company on outdoorsmen like us and everything to take your game from field to table.  Prices are pretty good as they eliminate the middle man and sell directly to the consumer through their website.  But all that aside, let's get to the good part.
Like most of you, I've tried every way to make jerky.  From cracking the door on the oven to those cheap plastic dehydrators. They all work, but take extra effort to get the job done with constantly flipping the meat or rotating the trays.  I wanted a set it and forget it solution and came across MEAT!.
They offer two sizes of their dehydrator and I never large batches of jerky, so I was good with the smaller one. It's a 6-tray unit with programmable temp and time which is exactly what I wanted. Plus the promise of 360-degree heat with even cooking over all the meat.  Again, set it and forget it is my goal. Anyway, let's make some jerky.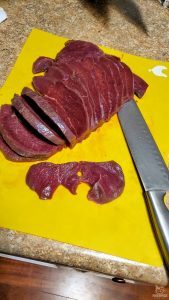 With making jerky, there are many ways and everyone has their own preference. For me, I like it thick and chewy.  I'm and soft bacon guy if that explains anything.  When getting your meat ready for jerky, cut it to your desired thickness. I always cut the meat partially frozen so it is easier to cut a uniform thickness and around 1/4″ thick.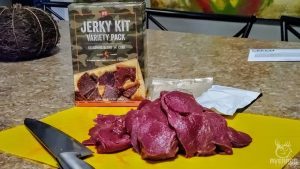 Seasoning again is a personal preference.  A lot of people have their own secret recipe and I've experimented with tons of them.  But I've learned a long time ago, it's a lot easier to let the professionals come up with the best recipe.  Lately, I've been using seasoning from PS Seasoning for my jerky and have been getting many rave reviews from friends.
After I let the meat sit in the seasoning marinade for a day (or two), it's time to test out the MEAT! 6-Tray Dehydrator. Cooking your jerky is the easy part, especially with a good dehydrator.  A set of instructions came in the box with temps to use for whatever you're cooking.  For your first time, follow the instructions with the temps and set it for several hours to start.  But, make sure you keep an eye on it.  After a few times making jerky, you'll figure out the magic numbers for your style.  Then you can set it and forget it.
Now as far as the performance of the MEAT! 6-Tray Dehydrator, If honestly works as advertised.  I never had to rotate the trays, never had to worry about moving the jerky around or anything.  Simply put it in and pull it out when it's done.  I never notice any difference between finished jerky from top rack to bottom rack.  This dehydrator has worked perfectly every time.
Extra Fun with the MEAT! 6-Tray Dehydrator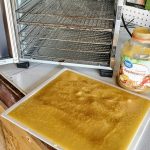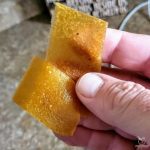 This dehydrator also comes with a slotted plastic tray for small items like fruit and such.  But, the extra item I like the most is the plastic tray.  I mostly use it as a drip tray when making jerky which is great for easy cleanup.  This tray also works great for making fruit roll-ups.  Just mash up your fruit into a smoothie type thickness, spread it out on the tray, and dehydrate.  160 degrees for about 6 hours and you have a great, healthy snack the whole family will love.  A lot of times, I just take a jar of apple sauce and make some.
​