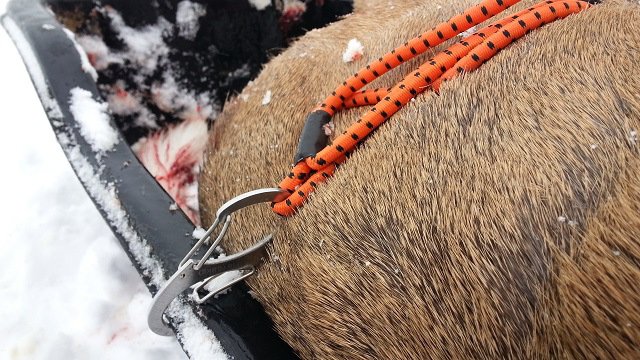 The Average Hunter Review of the The LoopRope Cargo Tie Down
There are many things we take for granted in life and some of them are the tools we use or at least have close by in case we need them. One of those tools we all have jammed in our trunk, tool box or pulled across our racks on our quads. We all have bungee cords laying around and a lot of times, couldn't get by without them. I was given the opportunity to try out a new style of "bungee cord" so I figured, it's a bungee cord. I will quote fellow outdoors blogger Mark Huelsing at SoleAdventure.com when he posted in a recent article "What can be so innovative or revolutionary about these items?" In Mark's instance he was referring to to some other basic tools we use in the outdoors. In my case, it's just a bungee cord right? Not exactly, it's a LoopRope.
When I first got the LoopRope in the mail I check it out and did the normal guy kinda tests on it like seeing if I was stronger than it, it passed. I then got mad and beat on it with a rubber mallet and it still passed. So the caveman portion of the testing was over after I got smacked in the face trying to break this thing. I grabbed my club and crawled to my rock to lay down. That battle went to the LoopRope.
Information from LoopRope Website. Key Features:

LoopRope Utilizes bungee tie down straps crimped at several intervals to create an adjustable cargo tie down system.
Each loop can be an additional fastening point on the strap – increases stability and security.
Using multiple LoopRope tie down straps allows you to create cargo nets for your truck or exactly where you need them.
The LoopRope tie down system is much simpler and safer than traditional bungee or rope tie downs.
Replaces traditional bungee cords with high quality bungee shock cord and stainless steel carabiner.
Quickly and easily secures cargo or equipment with no need to tie knots.
Looprope never tangles.
One LoopRope tie down strap solves many fastening problems.
Satisfaction guaranteed
All fun aside, the more I thought about using a standard bungee or rope all these years, I starting realizing they had many flaws. Like needing many to do one job. It's hard to get one bungee or piece of rope to hold different items at once and do it securely. The multi-loop design of the LoopRope give you many options.
In my instance, I needed a way to tie down a deer I just shot during our muzzleloader season onto a sled. I had to pull the sled thru a frozen plowed corn field and that deer wasn't going to stay in that sled very long. In most cases during this situation, I can only use a bungee and that never lasts. The legs of the deer always come loose. With the loop design of the LoopRope, I was able to wrap, twist, tie and pretty much do whatever I wanted and it all worked. The bonus was the separate "S" clips that I could attach to any loop which instantly changes the size of the one LoopRope.
As you can see, the LoopRope can be twisted, tied and looped in many ways and I will agree, it looks like a mess. But it looks that way on purpose. I wanted to twist, tie and loop in all over and see if anything came loose in the rough ride and these pics were taken afterwards if that tells you anything.
The LoopRope passed every test I could throw at it at this time with flying colors and maybe a tear or two. I honestly can't think of anything I would need to change about it. LoopRope offers many sizes and packages to fit any use. Although you may only need one, you can't have too many. Check out their website at http://www.looprope.com and see all the options they offer and check out all the different ways you can use these.
---
Disclosure of Material Connection: I received LoopRope 5ft Cargo Tie Down for free from  LoopRope™ as coordinated by Deep Creek Public Relations in consideration for review publication.