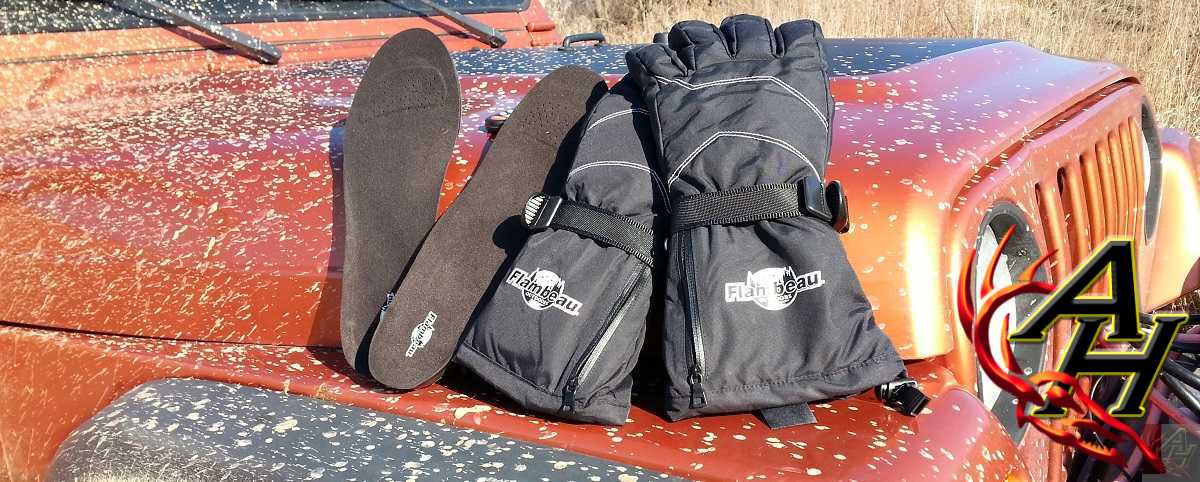 Cold hands and cold feet has to be the biggest issue all outdoorsmen have when venturing into the outdoors during the winter months.  Flambeau Outdoors has come out with some battery operated gear that will solve the problems we have with the cold.  
Flambeau Outdoors
introduces the 
Heated Gloves Kit
and the
Hot Feet Heated Insoles
.
I am a lifelong sufferer of CHCF (cold hands cold feet) and like others with my "condition", I have tried every trick in the book.  I have tried movement which isn't always easy or a good idea.  I have tried the plastic bags which are loud and a pain.  Changing socks or boots in the stand has never worked for me.  Pretty much every option that contains the body heat has never worked for me.  The only thing that has worked was adding heat but my options were limited and not always effective.  So getting a chance to test out the new Heated Gloves Kit and the Hot Feet Heated Insoles from Flambeau Outdoors was something I was excited to try.
The Gear
| | |
| --- | --- |
| | The Heated Gloves Kit are stylish all outdoor gloves designed to warm hands and fingers for up to 4 hours. Includes heating elements on the palm and front of fingers. These gloves are waterproof and breathable, made of quality materials including 100g insulation for lasting comfort and performance. Tough nylon outer shell with performance grip for all outdoor activities. Includes 1 pair (2), 3.7v Lithium-ion rechargeable batteries, battery charger, instruction manual |
| | |
| --- | --- |
| | The Hot Feet Heated Insoles warms your toes for up to 8 hours. Heating element from ball of foot to toes. On/Off remote control with 3 heat settings. Includes 1 pair of insoles, remote, built-in 3.7V Lithium rechargeable batteries, dual battery charger and information manual |
The Review
The Heated Gloves Kit themselves offer plenty of warmth in most cases.  They are very water-resistant (didn't want to test how waterproof they were) and will keep your hands warm during most activities.  But when the cold does start to set it, it's very easy to turn on the gloves to the high or low setting.  The heating elements cover the entire hand and fingers.  With the high setting, it will get pretty warm which will give you the ability to turn off the glove to conserve battery.  I found it best to cycle the time that they are on as the conditions I was in wasn't the most extreme out there.  Maybe in sub-zero temps, the gloves may need longer run times which will drain battery quicker obviously.  The gloves themselves are not anything you're going to do much detail work with.  They are a bit on the bulky side which for me wasn't a big deal.  They slid on and off easily for when I needed.
The Hot Feet Heated Insoles are a sturdy and comfortable insoles that is operated individually or by remote depending on what model you get.  The insoles work with a single heating element located under the ball of the foot.  The 3 heat settings and long battery life do give you constant comfort during a long sit in the stand or out on the ice.  They work great but with the 3/8″ thick heel (my rough measurement), it does cause fit issues in your favorite boot.  I testing them in my normal cold weather boots which I normally get a little bigger than normal so I can wear thick socks.  These inserts made that boot a tight fit and walking wasn't the best in these boots.  If you can remove the current insoles in your boot and then use these, that will help quite a bit.  If not, then I suggest just installing them once you reach your sitting destination.  These are comfortable insoles.  I didn't have any problem standing on them for long periods of time or sitting with them.  If my boots were a different style or a little bitter, they would have worked great.
What do I think?
I like them.  They work just as advertised and when it comes down to cold weather again, I will try other boot options.  I'm really not worried about the insoles not fitting.  They are so easy it slip in my boots, I can do it in the stand in a minute.  The gloves are sturdy and feel like they will physically last forever.  They would be great for snowmobiling and such in the winter as well as hitting the slopes.  If you suffer from "CHCF" like me, you should check these out.