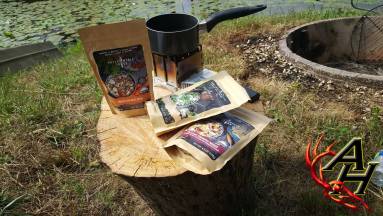 Spending time in the field for a few hours or a few days will make anyone hungry.  Having a meal readily available is usually a problem.  At least something other than a candy bar that's been melted and smashed 10 times in the bottom of your pack.  I for one, prefer a meal that has some substance, tastes good and isn't filled with crap like preservatives and fake flavors.  Usually a combination like that doesn't come with something you can keep in your pack or your truck all season.  The folks at Paleo Meals To Go have put all of that into a handy package that is almost ready to eat.  Just add water.
Out at our happy hunting fishing fun place, we have no power, no lights and usually the propane tank for the grill is empty and the closest gas station or tavern to grab a meal is a bit of a drive to get to.  Usually, we don't want to head into town to get lunch if we don't have to.  But most of the time, we forget to bring something for everyone to eat.  I started looking into MRE (Meal, Ready to eat) packs as a quick and easy way to grab a meal when we need.  But in most cases, we can't get a few bites down before it all becomes fish food.  Plus the ingredients in most of those do more harm than good to your body.  So I have always been on the search for something that's good and good for me.  Then I heard about Paleo Meals To Go.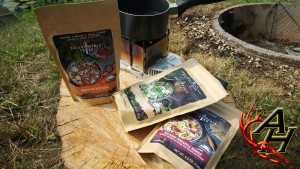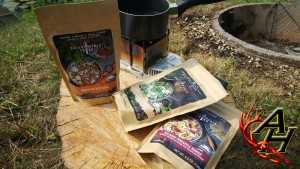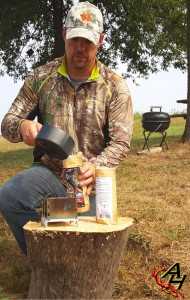 Once I read this from their website, it listed everything I wanted.  So I figured I better give them a shot.
"Paleo Meals To Go was born out of love and passion for health and exercise, the spirit of the great outdoors, and advocacy for a holistic, wholesome Paleo lifestyle. We provide the best in class, freeze-dried Paleo meals to those on a path less traveled. Wherever our customers go, Paleo Meals To Go gets them there. With unexplored territories on the horizon, backpacking food that gets back to your roots and to your adventure is our prerogative. We balance experience with passion, providing the ultimate combination of nutrition, taste, and convenience to enhance the journey ahead whether you're hiking, backpacking or camping."
Now I know that these packs are not something that you would think that can be eaten anytime or anywhere.  I know you're probably thinking that sometimes you won't be able to heat up water.  I agree with you, but these packs don't require hot water.  It's just better if it is. Read more about cheap camping food ideas
Each Paleo Meals To Go pack is a little different with how much water you need to add.  Just read the instructions and do the best you can.  At the farm today was my dad, my son and myself.  I just had the three packs so I figured two of them would be enough for the three of us.  The Mountain Beef Stew and Palisade Pineapple Mango sounded like a great main course plus dessert for the crew.  Making them was easy.  I was able to boil some water and just pour the instructed amount into each bag.  Stir it, shake it and let it sit for a few minutes and time to eat.
Paleo-Friendly™ freeze-dried Palisade Pineapple Mango is gluten free, grain free, milk free, soy free, nightshade free, and shelf stable with 14g of protein.

Ingredients:

Coconut, freeze-dried coconut water (organic evaporated coconut water, tapioca dextrose [processing aid], sea salt, ascorbic acid [vitamin C]), flaxseed meal, almond flour, walnuts, pecans, banana, pineapple, mango, ground vanilla beans.

Freeze-dried Mountain Beef Stew is gluten free, grain free, milk free, soy free, nut free, nightshade free, and shelf stable with 42g of protein.

Ingredients:

Beef (beef, salt), carrots, onions, mushrooms, celery, spice blend (spices, granulated garlic).
The Taste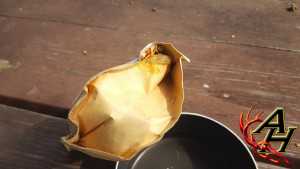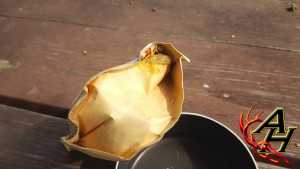 We were all very impressed.  There was nothing I could have suggested to make this taste better other than trying to compare it to my own cooking.  The part that surprised us was how fresh the ingredients tasted and felt.  The vegetables in the stew still had a slight crunch to them and tasted fresh.  In the dessert, it wasn't the mushy oatmeal glob I was expecting.  You could really pick out the different fruits as we devoured it all.  Unless you saw this being made, you would never be able to tell it was a freeze dried bag.  But, I did have one problem I need to mention.  Don't shake the bag too much.  Hopefully I was lucky enough to get a bag that wasn't perfect, but it seemed the inner seal wasn't sealed all the way.  The other bag worked perfect and the instructions don't say to shake it, just stir.  So maybe I should have followed them.
All and all, we all really liked it.  Paleo Meals To Go says that one bag is enough for one person that is really hungry.  Between the two bags, it fed three of us very well.  With a price point of $12.99 per bag, it's not something I plan on having every weekend, but it's definately worth having a few around for when you really need them.