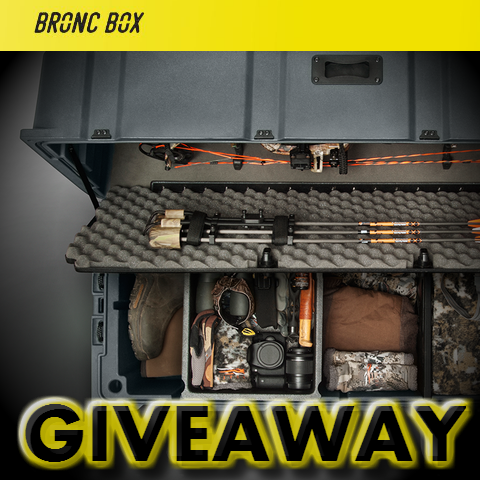 We're giving away a brand new Bronc Box with tray, divider and light to one lucky winner.
The Bronc Box was inspired by explorers of the wild – hunters who have dedicated much of their lives understanding nature, living on the fringes, and relentlessly traveling to find their next adventure. And like these fellows, the Bronco horse lives unrestrainedly, endures the elements, and represents freedom. Ergo, we chose this as a symbol to name our trusty sidekick to introduce to you and the sportsmen world.
IT'S WHAT'S INSIDE THAT COUNTS.

The lid of the Bronc Box was designed to safely encase your bow. Neither off-road trail nor drop-kicking deliveryman could bring harm to it.

Adjustable velcro straps to secure bow
Bow protected by two layers of foam
Quiver holding area
Storage for six extra arrows
Broadhead guard

ALL SEASONS. ALL HUNTS.

Whether you're gigging for frogs, tracking a mountain lion, or something in between, the Bronc Box's flexibility accommodates every kind of hunt. Compartmentalize however you want using a movable divider and a storage tray.

Need to take two bows? Bronc Box offers a tray addition that holds a 42" end-to-end bow. With additional standard dividers and trays available for purchase, your options are limitless.
---
Sign-up below to be entered for your chance at your own Bronc Box.
Due to shipping constraints, giveaway is limited to shipping to USA only.
Winner gets to choose between the archery or firearm Bronc Box