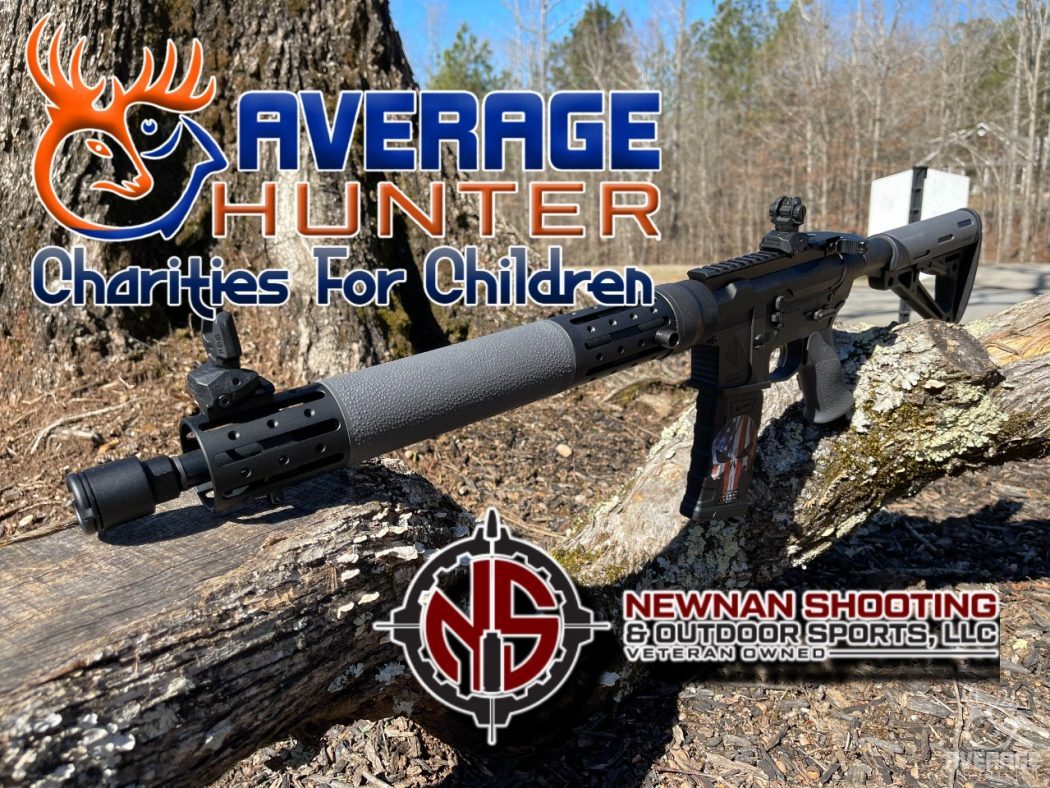 As part of the Average Hunter yearly auction and charity drive for the kids, I've partnered up with Newnan Shooting & Outdoor Sports, LLC to build one of the most badass ARs out there. Take a look at the fully custom for this raffle, The Newnan NS-15
NEWNAN SHOOTING & OUTDOOR SPORTS BILLET UPPER AND LOWER RECEIVERS
NEWNAN SHOOTIN OEM 16" 1:7 5.56/223 4150 CVM BARREL, BLACK NITRIDE FINISH BY H&M
HOGUE EXTENDED LENGTH OVERMOLDED FREE FLOAT FOREEND – SLATE GREY
HOGUE OVERMOLDED COLLAPSIBLE BUTTSTOCK ASSEMBLY – SLATE GREY
HOGUE OVERMOLDED RUBBER BEAVERTAIL GRIP – SLATE GREY
WILSON COMBAT TACTICAL TRIGGER KIT NICKEL TEFLON SINGLE STAGE
NEWNAN SHOOTING OEM BOLT CARRIER GROUP BLACK NITRIDE BILLET EXTRACTOR
X2 DEVELOPMENT JACKAL AMBI CHARGING HANDLE – COMBAT DERIVED
ERGO STEEL CASTLE NUT & END PLATE
CMMG UPPER & LOWER PARTS KIT
BATTLE ARMS – BADASS AMBI SAFETY SELECTOR
ERGO LOW-PROFILE ADJUSTABLE GAS BLOCK (FOREEND REMOVAL REQUIRED)
MID-LENGTH STAINLESS STEEL GAS TUBE
WHITE LABEL ARMORY AR15 FLASH CAN 6061-T6 ALUMINUM HARD COAT ANODIZED
MEPRO LIGHT FOLDING BACK UP SIGHT SET WITH SELF ILLUMINATE NIGHT SIGHTS
MAGPUL PMAG 30 GEN2 MAGAZINE
PIT BULL TACTICAL 38" WATER RESISTANT SOFT CASE – BLACK
SUGGESTED RETAIL PRICE – $1692.00

Newnan Shooting & Outdoor Sports, LLC is a Veteran Owned company striving to make you confident in your on-line purchasing. They offer excellent customer service and a diverse selection of shooting and outdoor products.
---
Congrats to John Gutierrez.
Here is the drawing for the 2021 Raffles.  This video shows the Mathews bow raffle and the Newnan Shooting & Outdoor Sports custom AR-15 raffle.
---
There will be a total of 144 tickets sold for this raffle.  If you are familiar with my yearly bow raffle, you know all about the process.  I take a 4′ x 4′ sheet of plywood and write everyone's name in 144 evenly sized squares in completely random order. Basically, I give my wife a list of names and she writes them down all over the board in whatever spot she wants. That's her thing, I have nothing to do with it. Once she is done with all of the names, we pick a nice day and go shoot at the target with one of my longbows from 150 yards out.  That's when I'm giving away a couple of new bows. Since this time I'm giving away just one rifle, I'll step it back as far as I can get these arrows to fly. It will all be on video with a camera on me shooting and one synced on the target.

Head over to the Average Hunter St. Jude Auction to see all of the great items you can bid on there.  Auction ends March 31st.